LEAVE YOUR HEART IN SAN FRANCISCO ♥
Let's start by acknowledging that there are far more than 25 top things to do in San Francisco. It's the city that inspired Tony Bennet's I left my heart in San Francisco, Ottis Redding's Sittin' on the Dock of the Bay, and Starship's We Built This City, after all.
It's the city of steep, rolling hills and relentless morning fog. It's a melting pot of cultures. Where else will you find JapanTown, Little Italy, China Town and the colorful Latino Mission District murals all within minutes of each other? San Francisco is home to the legendary Haight Ashbury – the birthplace of the hippie movement. The "City by the Bay" is also home to The Rock, the infamous and now defunct federal prison, Alcatraz, once filled with mobsters.
In San Francisco you'll find the juxtaposition of the flamboyant, gay-and-proud Castro region nestled between the gorgeous, looming, gothic architecture of Grace Cathedral and the Zen serenity of the Japanese Tea garden.
The city is home to many iconic sights. The instantly recognizable Golden Gate Bridge, the Victorian-style homes known as the Painted Ladies, and San Francisco's vintage cable cars, reminiscent of yesterday. All which are easily accessible to visitors.
Here are our top 25 San Francisco sights to get you started.
SAN FRANCISCO CITY: THINGS TO DO
THINGS TO DO IN SAN FRANCISCO TRAVEL MAP
BONUS: Use our interactive San Francisco travel as a guide to help you plan what things to do in San Francisco. It includes routes to these must-see San Francisco landmarks and Bay Area activities, so check it out from your phone!
TOP THINGS TO SEE IN SAN FRANCISCO
1. Golden Gate Bridge, San Francisco Bay. The iconic Golden Gate Bridge is easily one of the most instantly recognizable bridges in the world. It is certainly the most adored bridge in California, giving it the top slot on our list of 25 Things to do in San Francisco. This bright red suspended bridge can generally be walked across in under an hour.
San Francisco's Golden Gate Bridge is open to sidewalk visitors and vehicles all day and night. It is also open to cyclists from sunrise to sunset daily. The Golden Gate can also be experienced by boat, which allows you to cruise right underneath this structural masterpiece for some pretty interesting photographs! A 60 – 90 minute cruise around the bay can easily be booked from the wharf and can even include a trip to Alcatraz. Check out the vista point on google earth live view here!
Entrance Fee: Free.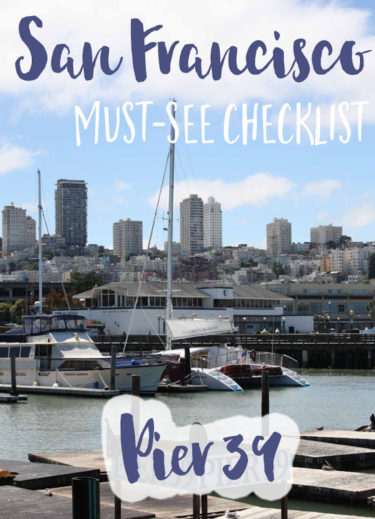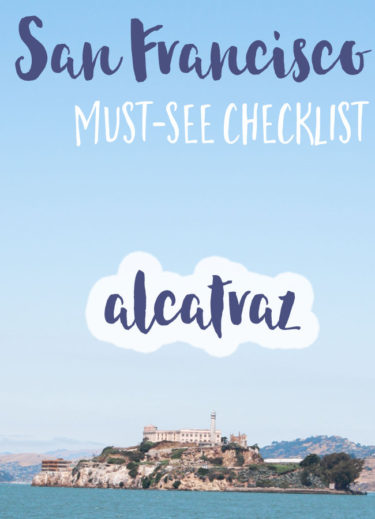 2. Alcatraz Island, San Francisco Bay. Alcatraz island is the notorious home of a now abandoned prison, which  once housed some of the most dangerous inmates in the US at the time. It is a must-see for mob-history aficionados visiting San Francisco.
Inmates at one time included prohibition-era mobster and crime boss, Al "Scarface" Capone, as well as Robert Stroud, the Birdman of Alcatraz. Although there were fourteen escape attempts during the prison's 29 years of operation, it is claimed that none were successful. The island can be accessed by ferry from Fishermans Wharf.
Entrance Fee: A cruise to the island which includes the opportunity to walk around on the island itself and visit the prison structures, costs in the region of $35 and should be prebooked. A one-hour harbor cruise which takes you around the island, and under the golden gate bridge, with great photo opportunities but no stops, costs in the region of $24 – $40.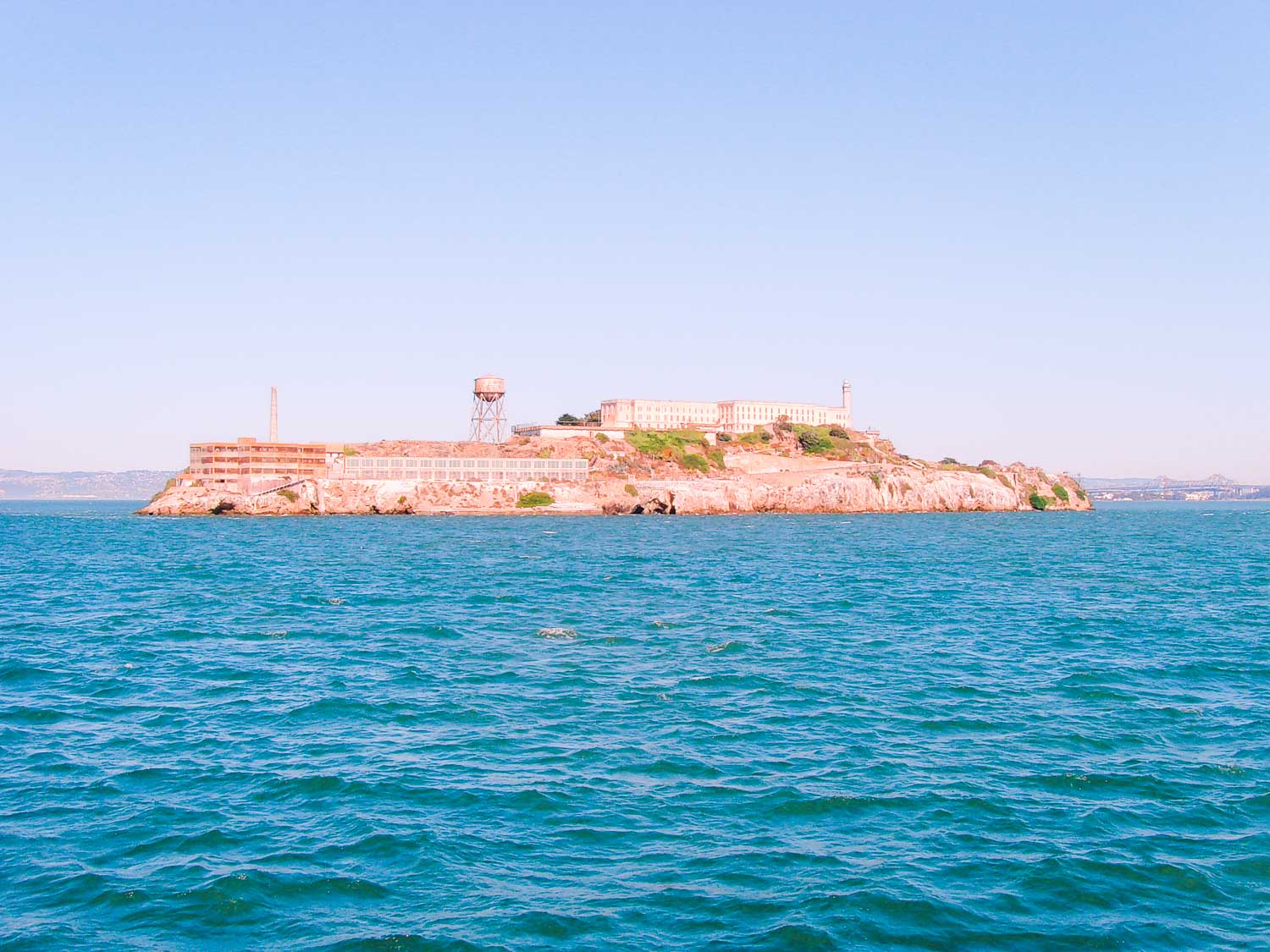 3. Fisherman's Wharf, San Francisco. This world-famous San Franciscan neighborhood has no shortage of things to do, with entertaining street performers and activities at seemingly every turn. The  Fisherman's Wharf, which runs along the northern waterfront of San Francisco, hosts many seasonal community events. It's a hive of activity and includes Ripley's Believe it Or Not Museum, the Maritime National History Park, the Wax Museum, and most notably, Pier 39.
Entrance Fee: Free
4. Pier 39, San Francisco.  At the edge of the Wharf, you'll find Pier 39 where you can see impressive views of Alcatraz, the Golden Gate Bridge, and the Bay Bridge. It's one of the more popular things to do in San Francisco. This is the place to catch a cruise,  take a spin on the Pier's carousel, do some dockside shopping, enjoy a delicious meal or spend time eyeing the famous sea lion colony that enjoys sunning themselves on the wooden docks.  The area is easily accessible via the historic F-Market streetcars.
Entrance Fee: Free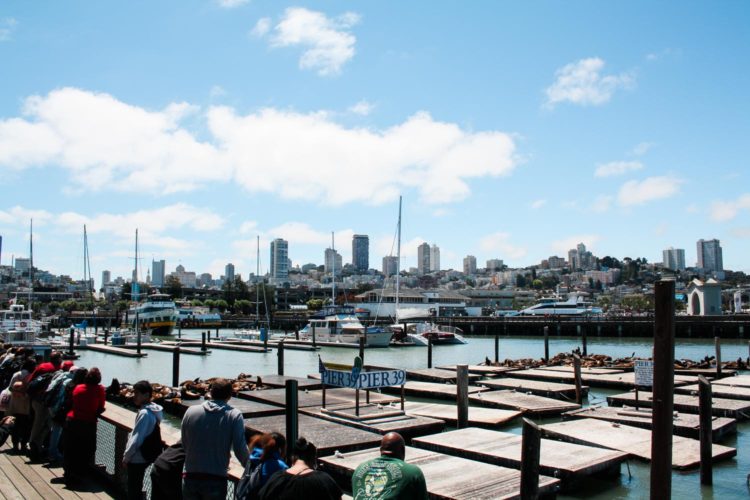 5. San Francisco Cable Car System and Heritage Streetcars. Take a trip back in time and experience a nostalgic mode of transport that has been in operation since 1873. Specifically worth checking out are San Francisco's heritage streetcars on the F Market & Wharves line at Market Street and the Embarcadero, which use only historic machinery.
Cost: A trip on a regular, manually operated San Fransican cable car is in the region of $7, and well worth the experience.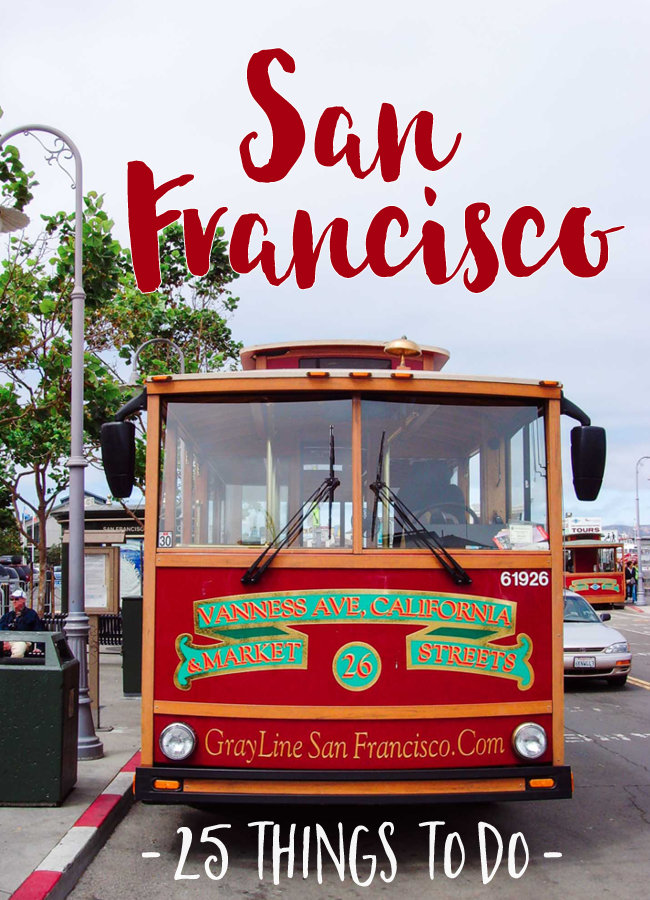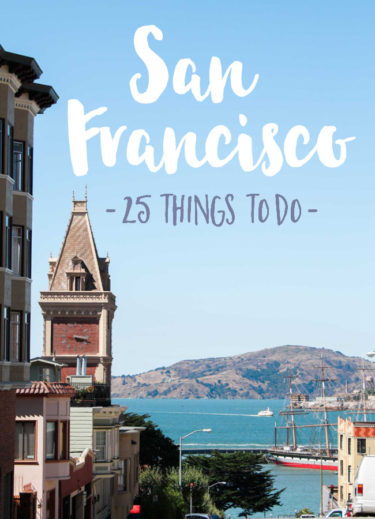 6. Haight Ashbury, Central San Francisco.  Hippie central and once home to Janis Joplin, Jefferson Airplane, and the Grateful Dead, Haight-Ashbury spawned both the origin of hippie culture and the psychedelic Summer of Love in 1967. Picture the scene: 100,000 counter-culture hippies enmeshed in a smorgasbord of free love, free food and free LSD, in what was deemed to be a (short-lived) 'cultural utopia.'
While all good things must come to an end, the remnants of this legendary time can still be found interspersed amongst vintage clothing boutiques, sheesha shops, record stores and coffee shops. Absolutely one of the most unforgettable things to do in San Francisco.
Entrance Fee: None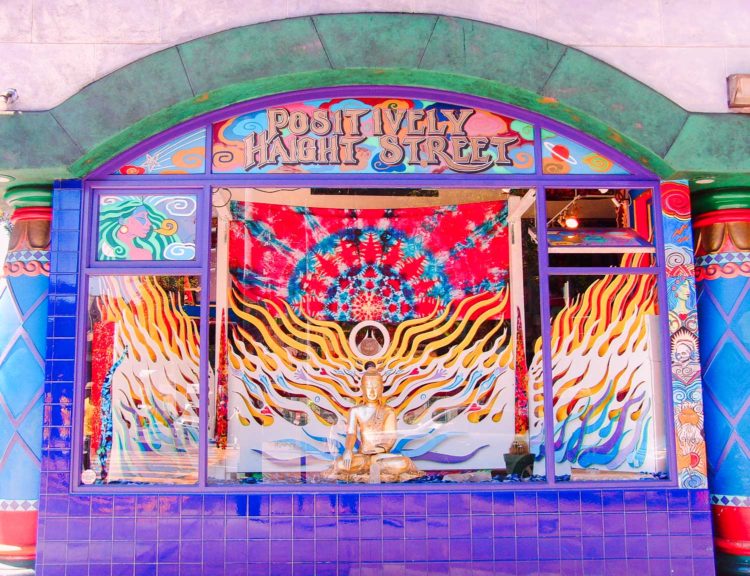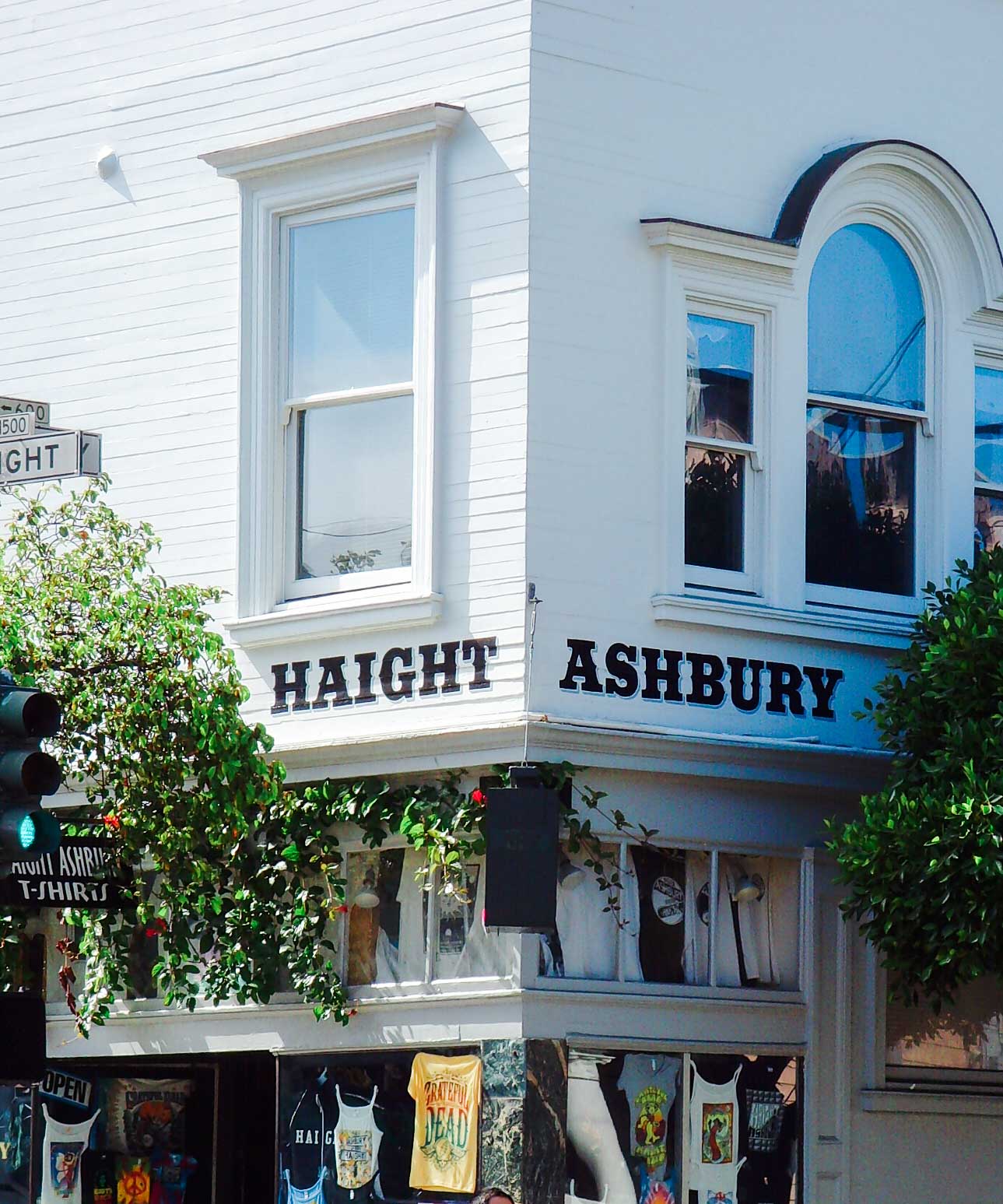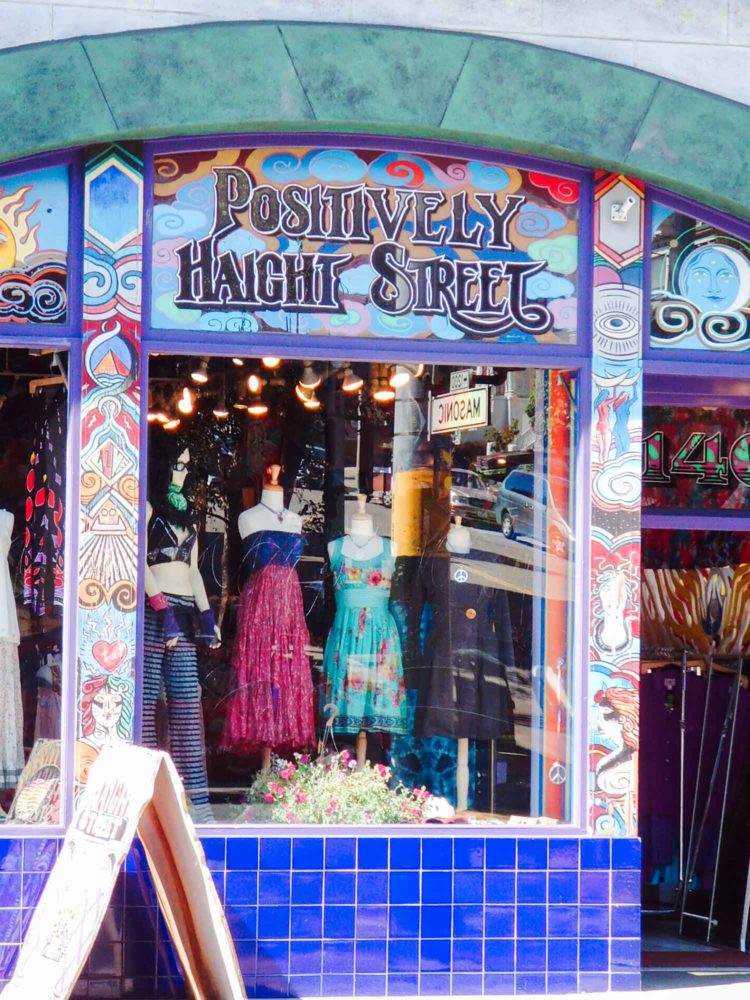 7. Mission District Murals. Another of the most popular things to do in San Francisco is taking a stroll around the bright, eye-catching mission district graffiti murals. This colorful street art "gallery" is filled with thought-provoking pieces of graffiti that were initiated as social commentary during the 1970s Chicano Art Mural Movement.
Many new pieces of street art are added each decade. The most well known alleys include the original murals in Balmy Alley from the 1970s, the murals of Clarion Alley, started during the 90s, the Lilac Alley murals and the MaestraPeace Mural, painted on the Women's Building in 1994. More murals to look out for are the Mission Pool Mural and the Murals in the mini park on 24th & York.
Entrance Fee: None
8. The Castro District. Flying the gay-pride flag in full force, the Castro district is another colorful place to visit, albeit for different reasons altogether! The vibrant, flamboyant, oh-so-camp Castro is filled with aptly named stores – "Hand Job Nails & Spa", "Sausage Factory Italian Pizzeria", "Hot Cookie Bakery". Of course you'd expect nothing less that to find creatively named adult stores like "Rock Hard" and "Does Your Mother Know ".
It's quiet possible that the most fabulous things to do in San Francisco are found in the heart of the Castro district 🙂 The legendary Castro theatre shows classic and vintage movies, along with absolutely fabulous karaoke-style movie singalong nights each month.
Entrance Fee: None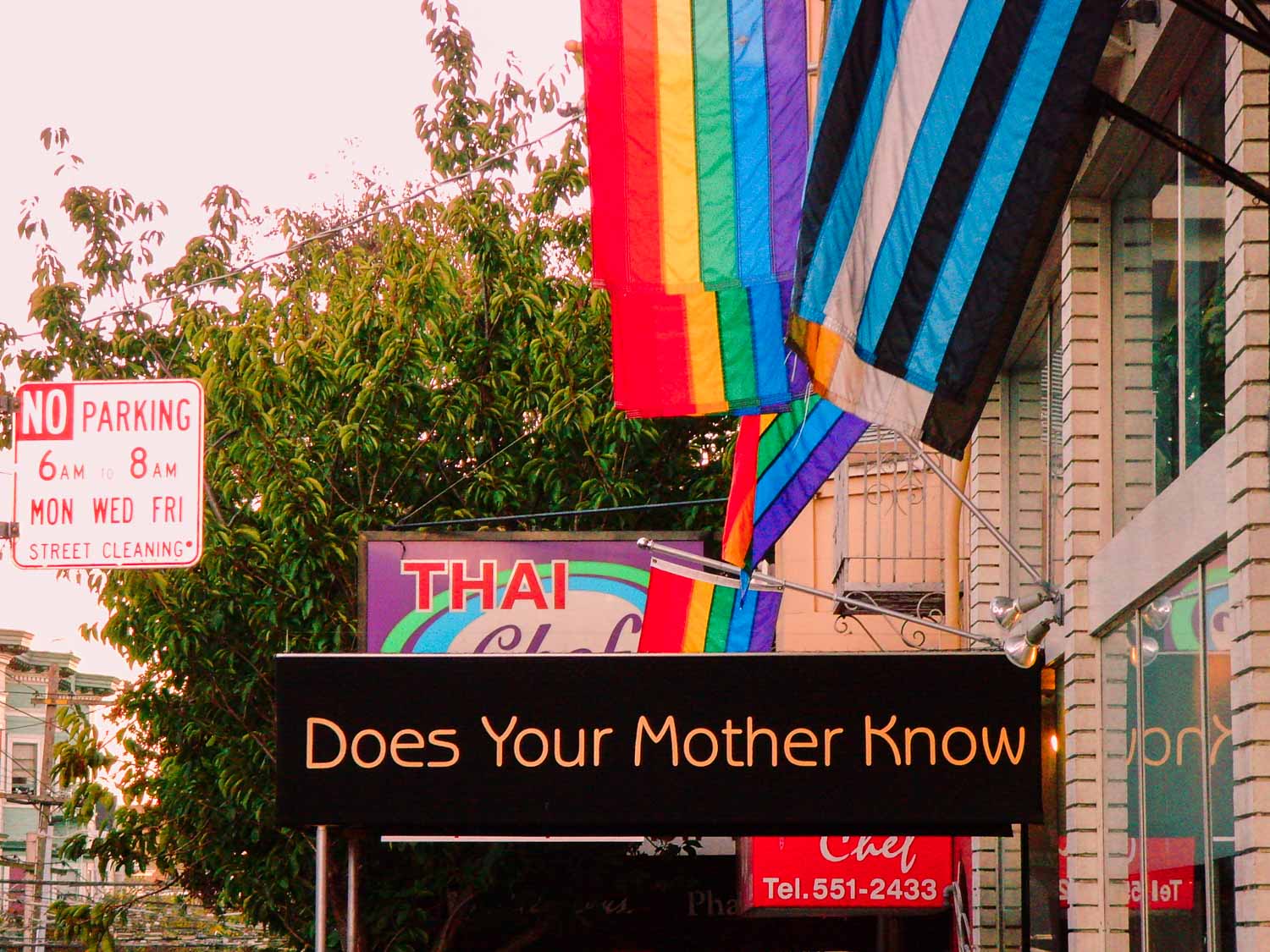 9. Union Square Hearts & Shopping. Check out the famous San Franciscan hearts displayed in the square that are commissioned by independent artists each year. Keep an eye out for the heart painted by Tony Bennett – the same person who penned "I left my heart in San Francisco." Plus, if boutique and luxury shopping are your thing, you're in luck. There is quite a bit of high-end shopping do be done in the square, including visits to Christian Louboutin, Chanel and Louis Vuitton.
Entrance Fee: None.
10. Crooked, Steep Lombard Street. Aptly dubbed "The world's most crooked street", Lombard street is unlike any street you've seen out before. It's filled with no less than eight sharp, hairpin turns. Be forewarned – if you're on foot, it's a pretty steep walk up! Then again, when isn't it, when you're in SF? 😉 One of the most curious things to see in San Francisco for sure!
Entrance Fee: None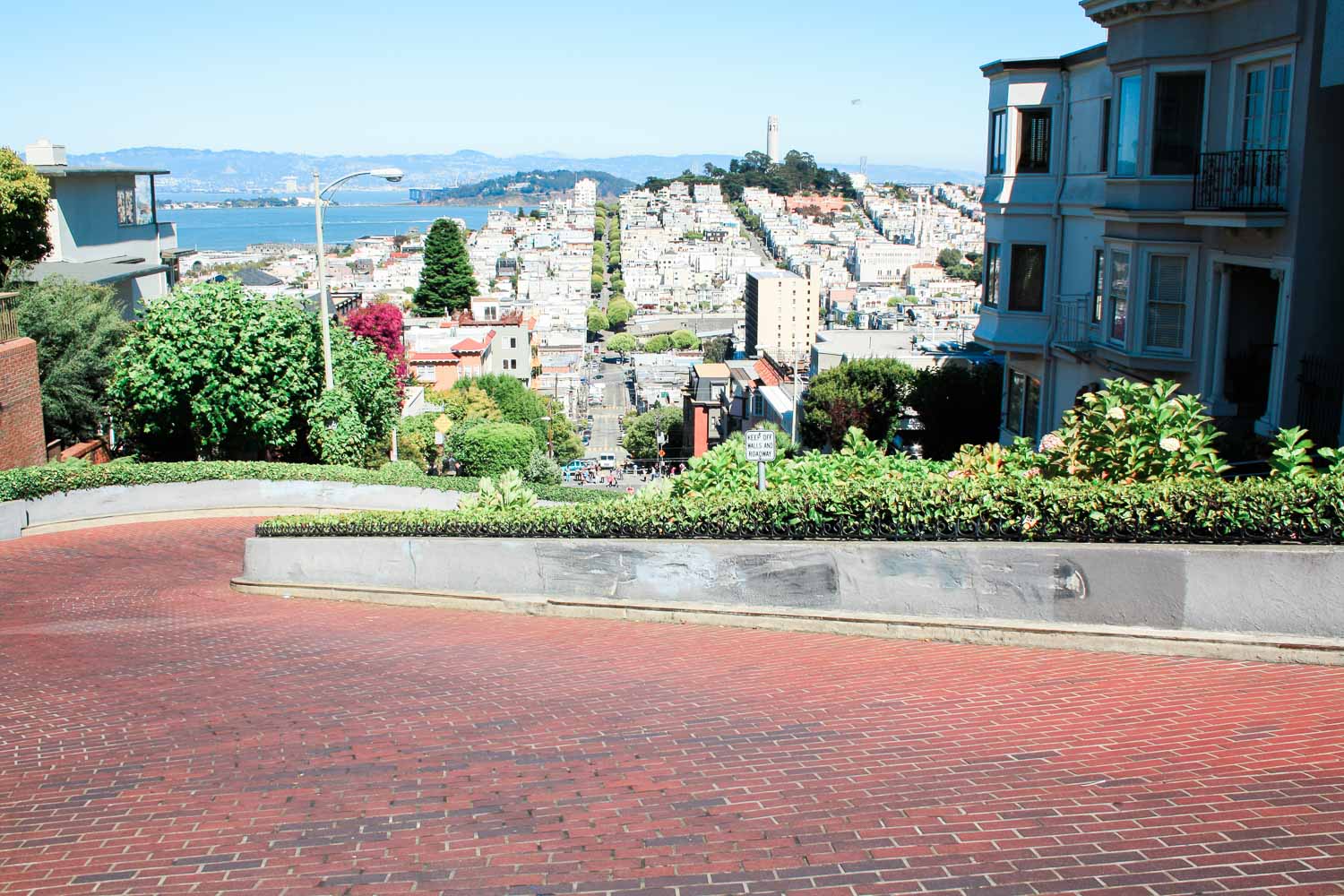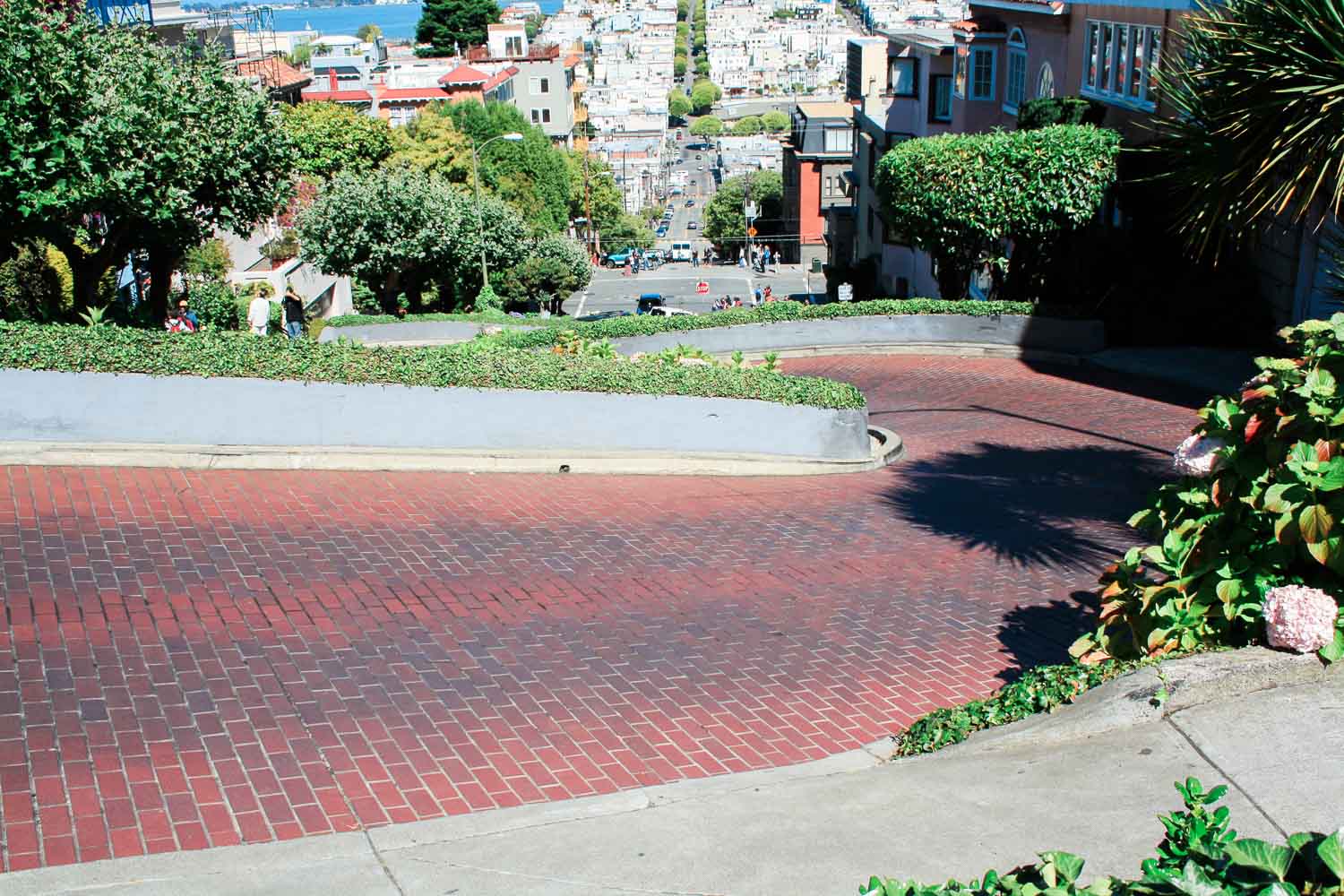 11. Painted Ladies at Alamo Square. Of course no list of things to do in San Francisco would be complete without mentioning the famed Painted Ladies. These colorful, uniquely painted Victorian houses of the "postcard row" have made 710–720 Steiner Street one of the most photographed areas in the bay city. You will TOTALLY recognize them from the opening credits of Full House. Don't be surprised if you find yourself mysteriously humming the tune to  ♫ ♪ Everywhere you look… ♫ ♪
Entrance Fee: None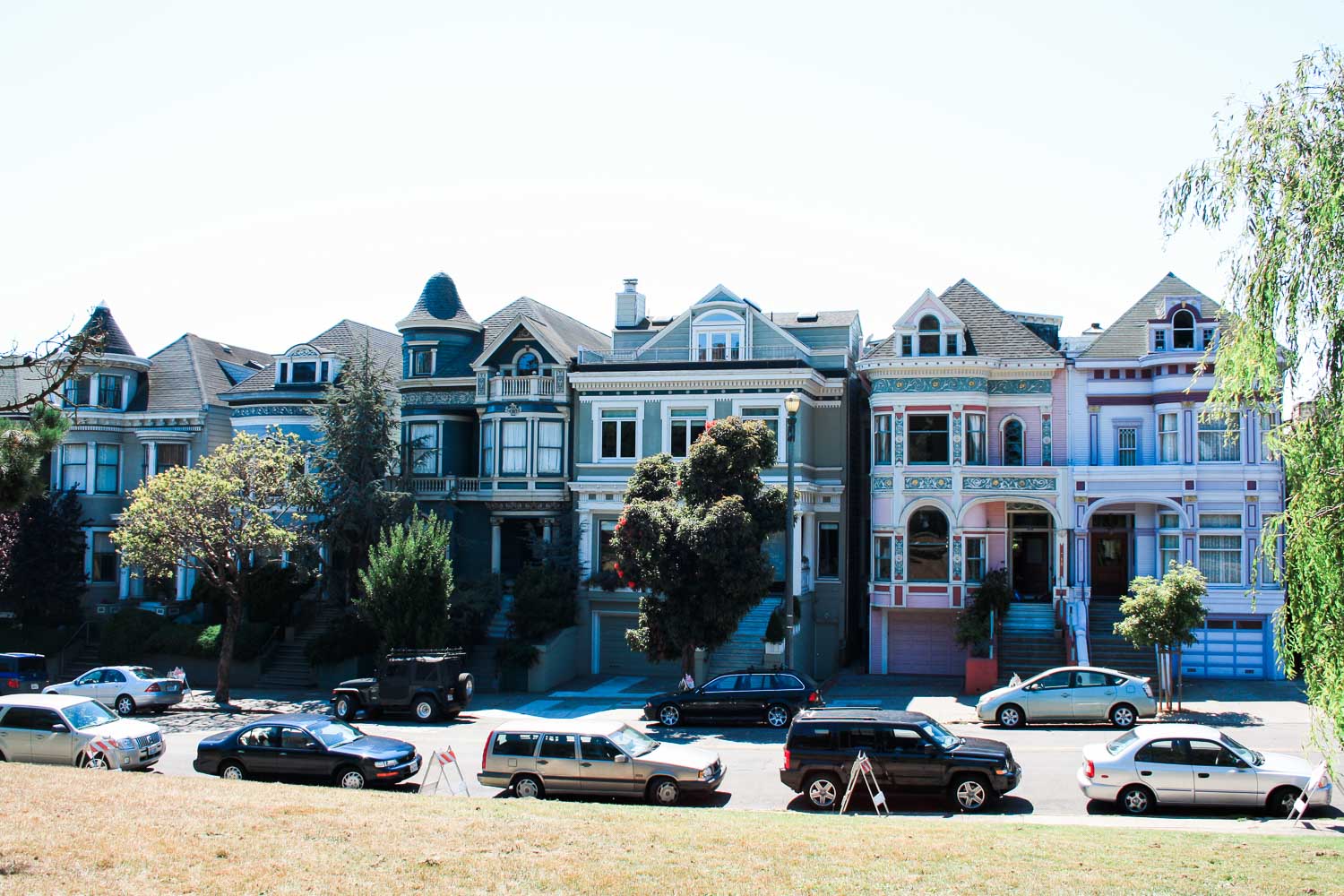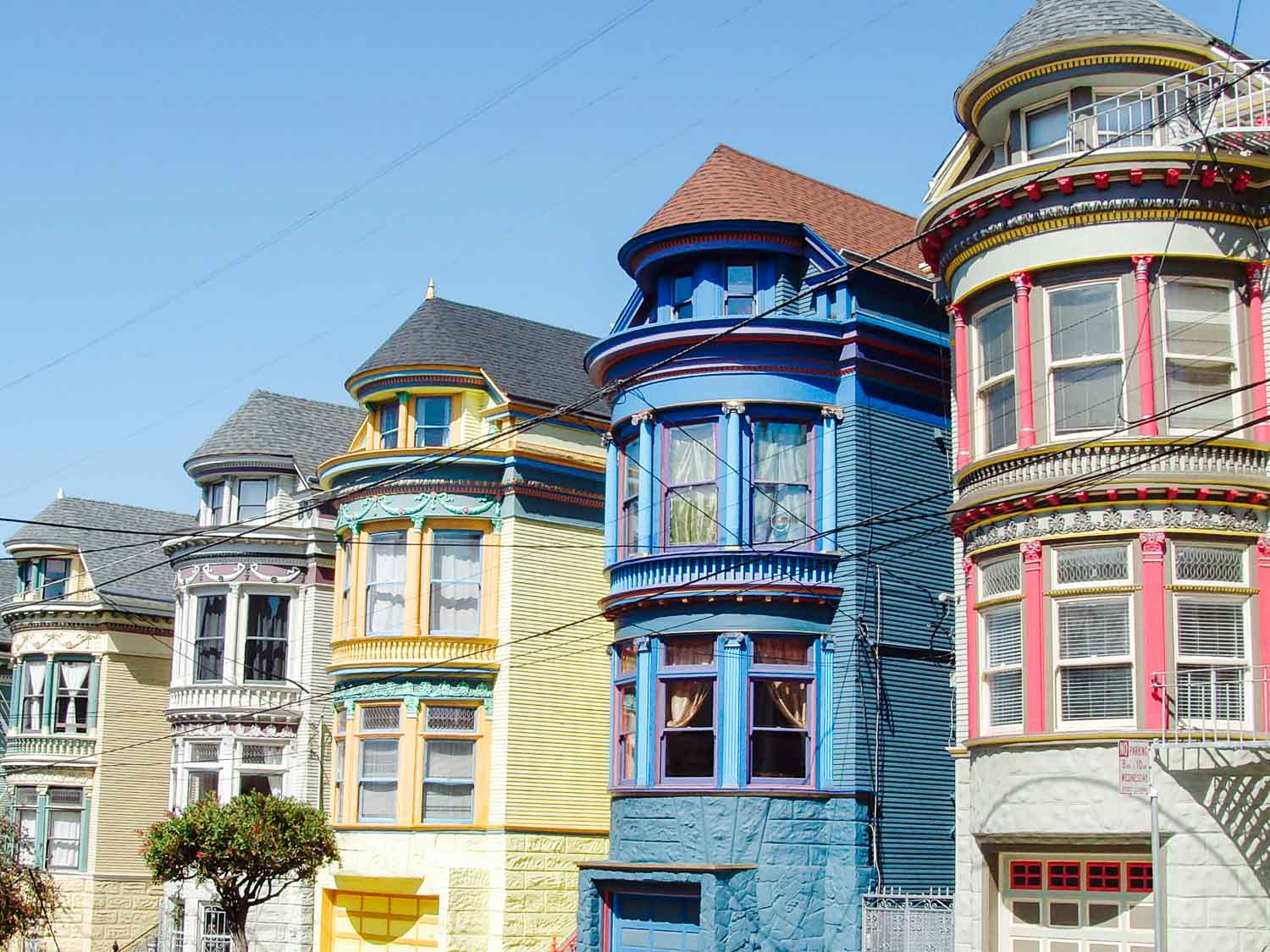 12. Grace Cathedral & Labyrinth. This striking example of gothic architecture, stained glass and murals earns Grace Cathedral a place on our list of 25 top things to see in San Francisco. The church is home to two labyrinths, offering monthly walks by candlelight with live music. On Fridays at midday peace walks are held by trained facilitators. Beautiful, indeed.
Costs: Free or guided tour $25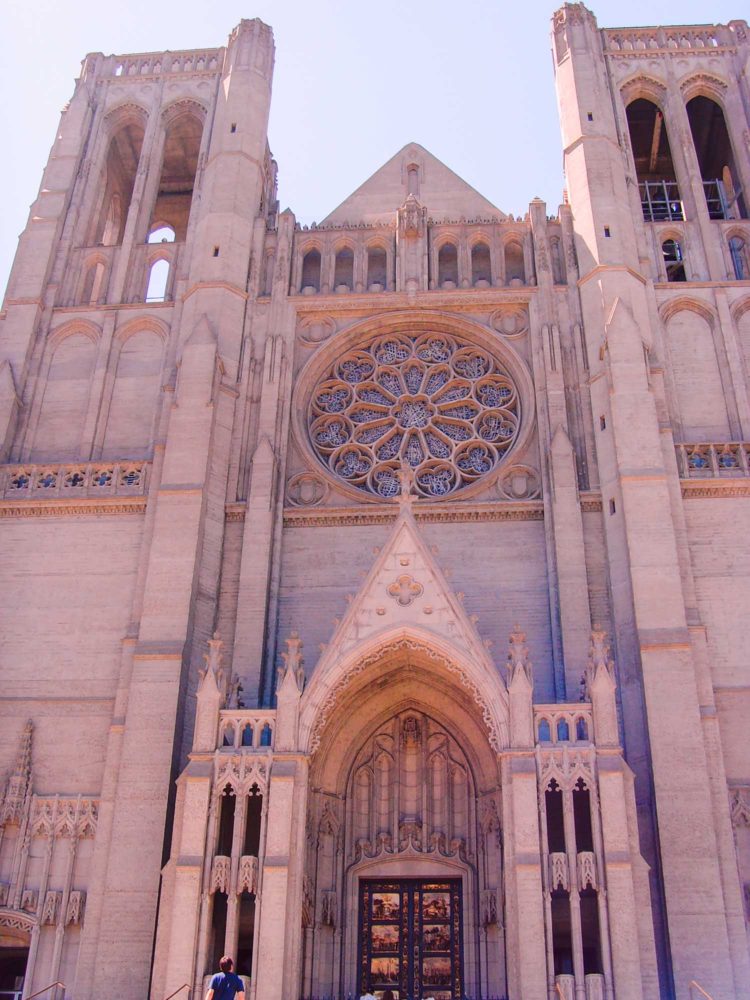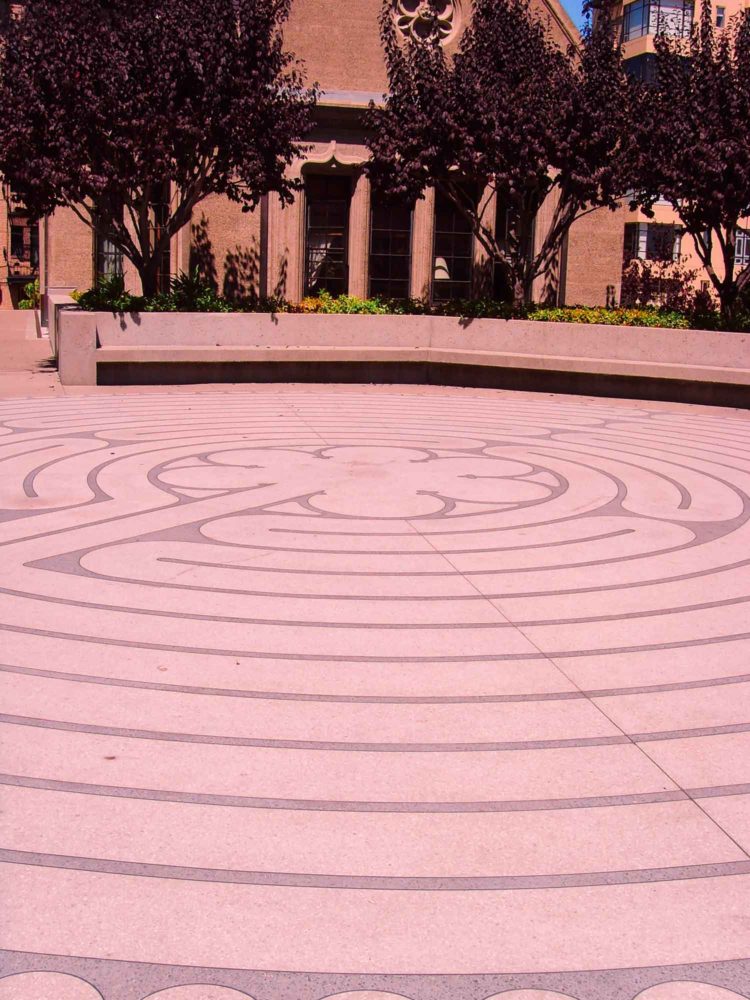 13. Coit Tower. From the outside, Coit Tower is impressive. The looming Coit Tower is 210-foot (64 m) art-deco structure on Telegraph hill gives magnificent panoramic view of San Francisco. Sights stretch from the Bay Bridge, encompassing views of the Financial District, Russian Hill, Golden Gate Bridge, San Francisco Bay, right up to Alcatraz.
Nestled inside the tower is an equally impressive historic sight. The interior of Coit Tower is filled with painted murals depicting daily life in the 1930s including shopping, farming, banking, shipping and city life scenes. An interesting snapshot of time gone by.
Entrance: $6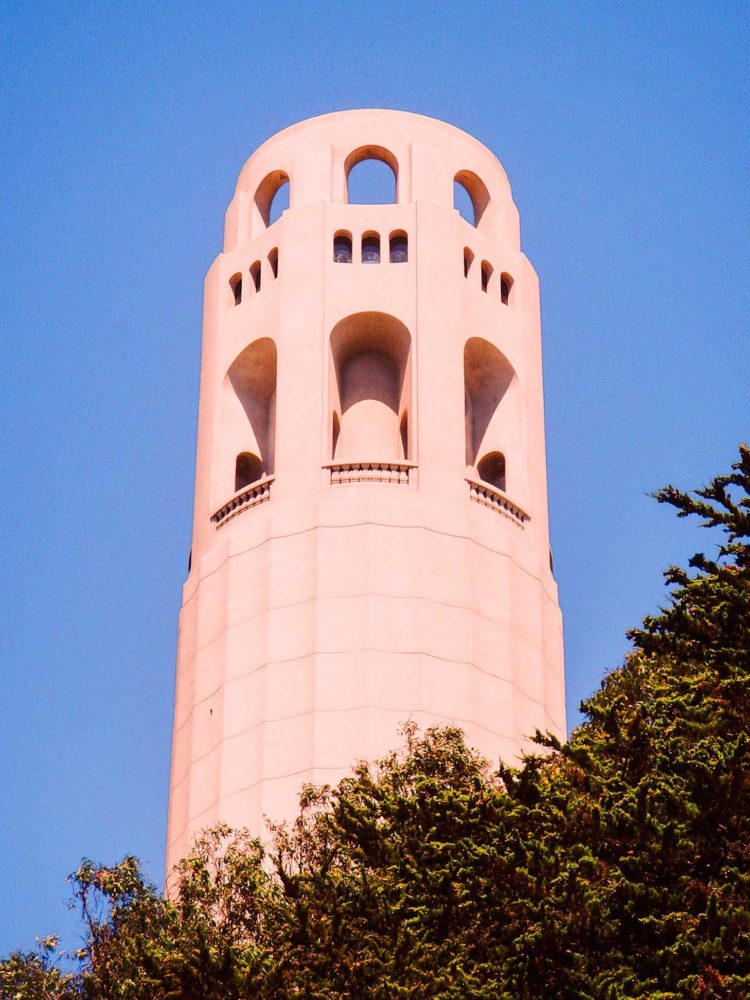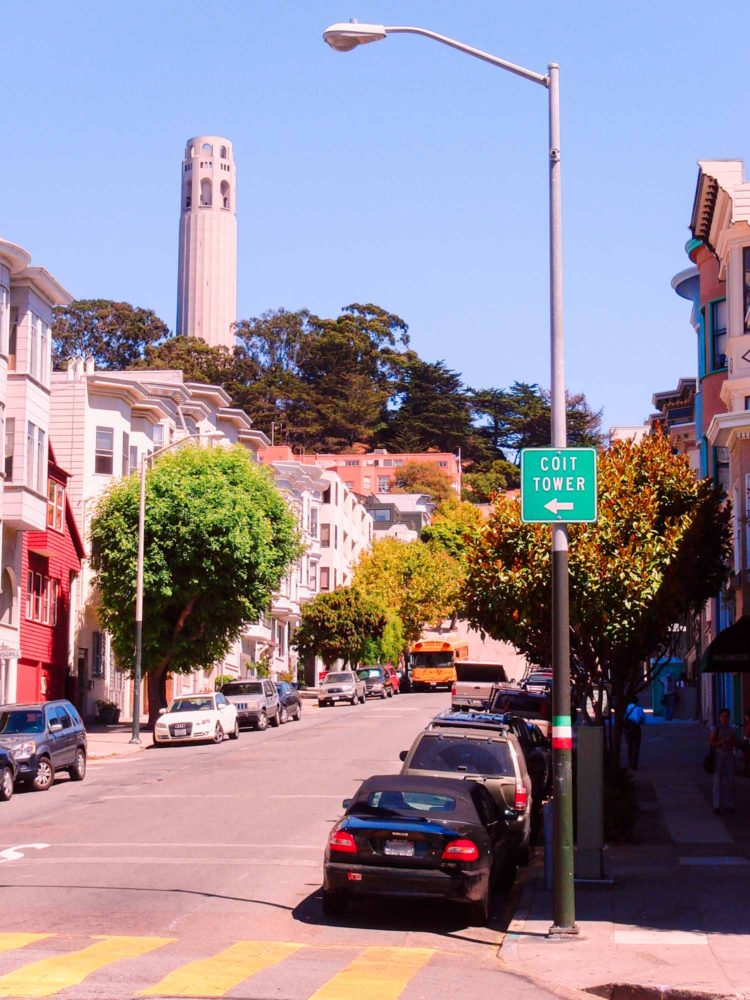 14. San Francisco Botanical Garden. This 55-acre urban oasis displays in the region of 8000 kinds of plants from around the globe, arranged by geography and climate. It also has a heavenly scented a fragrance garden, and contains the giant, legendary Redwoods you've heard so much about. It's beautiful and a gorgeous, peaceful escape to add to your list of top things to do in san francisco.
Entrance Fee:  $7.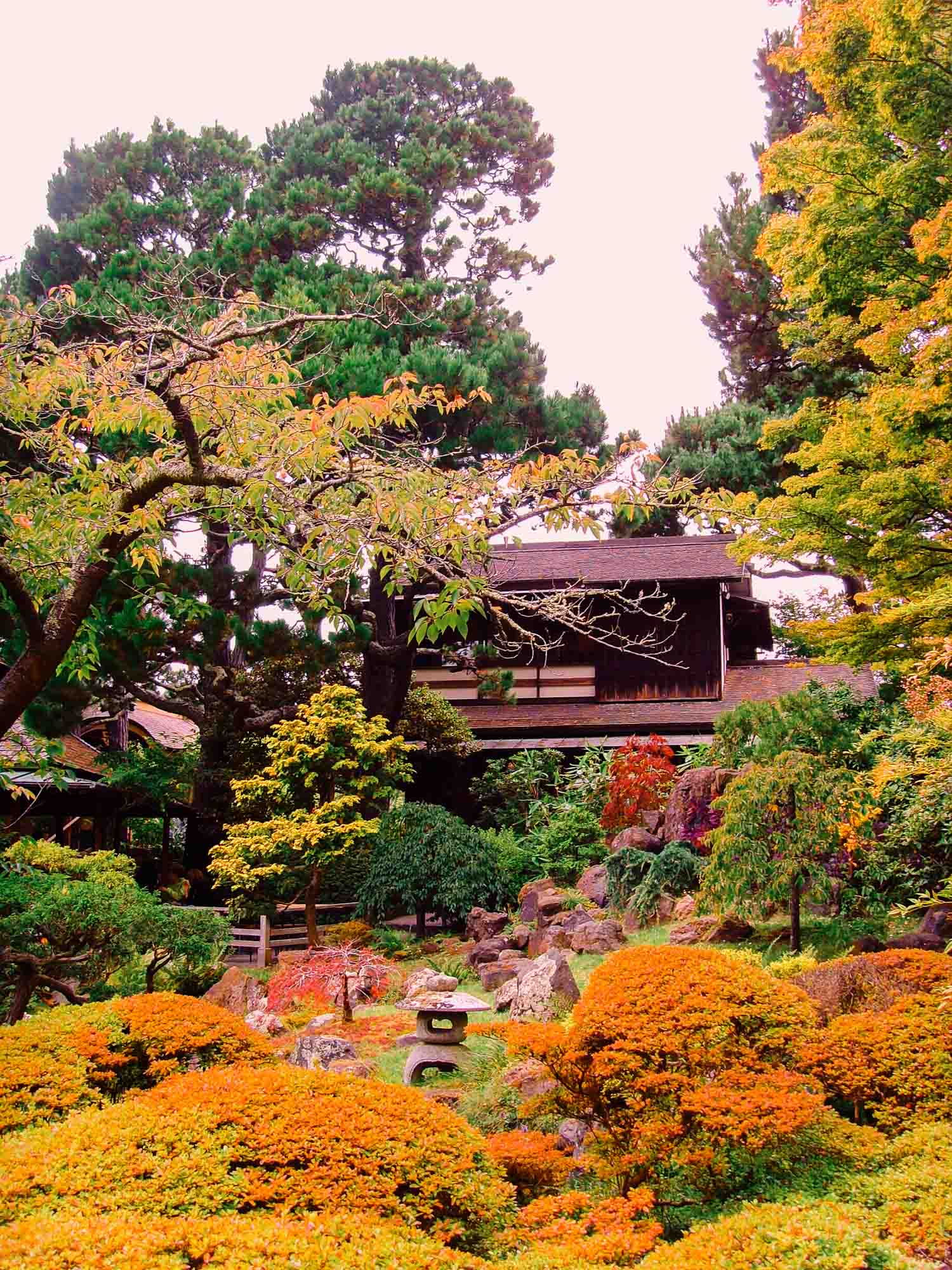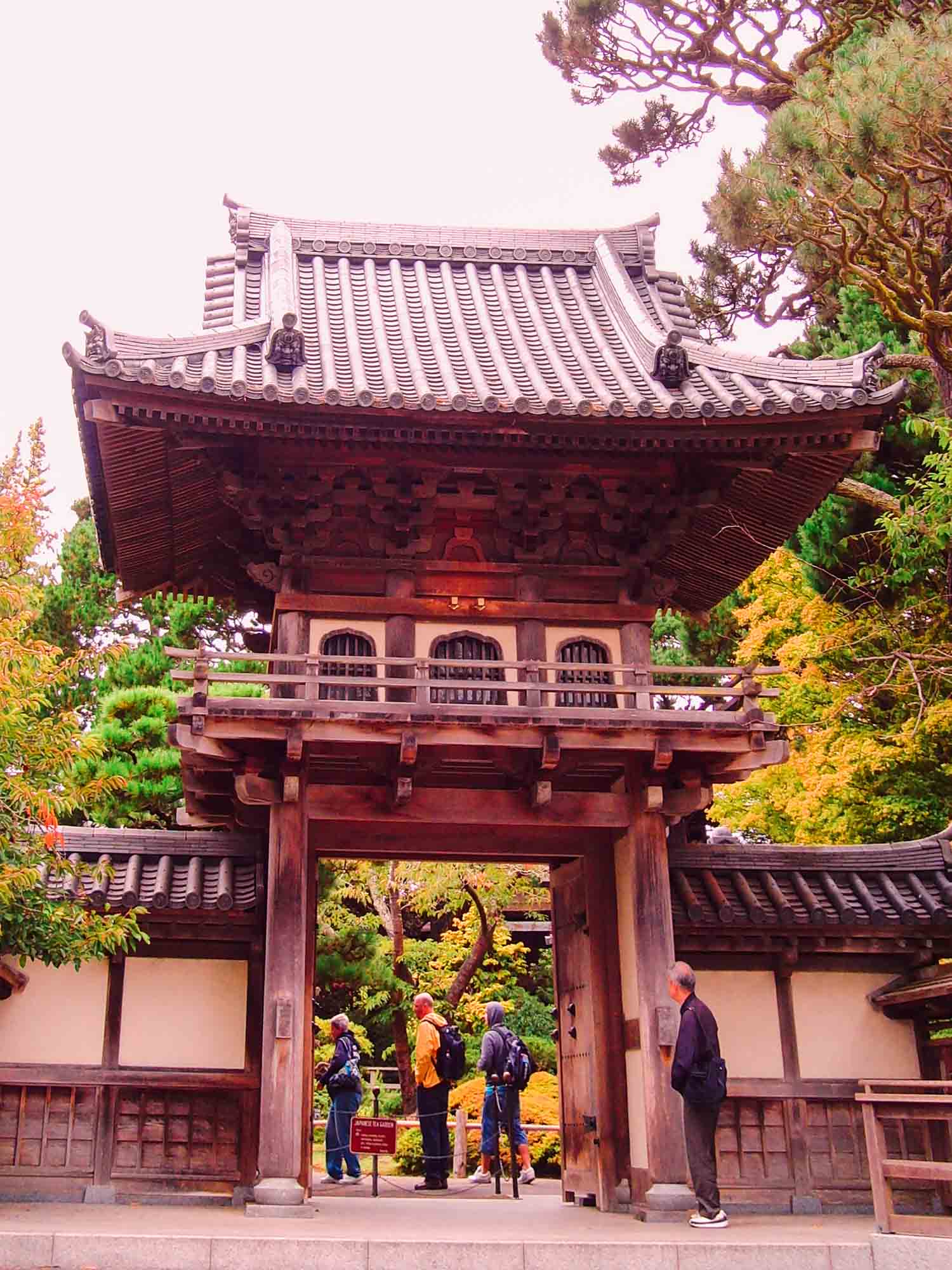 15. Japanese Tea Garden.  This small but picturesque traditional Japanese tea house is set against the backdrop of a small, perfectly landscaped Japanese zen garden. Enjoy the unmistakably Japanese architecture and landscaping, transporting you to another land. The beautiful koi fish pond is another of the natural beauties this garden contains, including landscapes of exotic flora that seems to have been painted there. Find the meditating buddha statues and maybe seek out a quiet spot to clear your mind before heading of to the next on your list of things to do in San Francisco.
Entrance Fee: $8.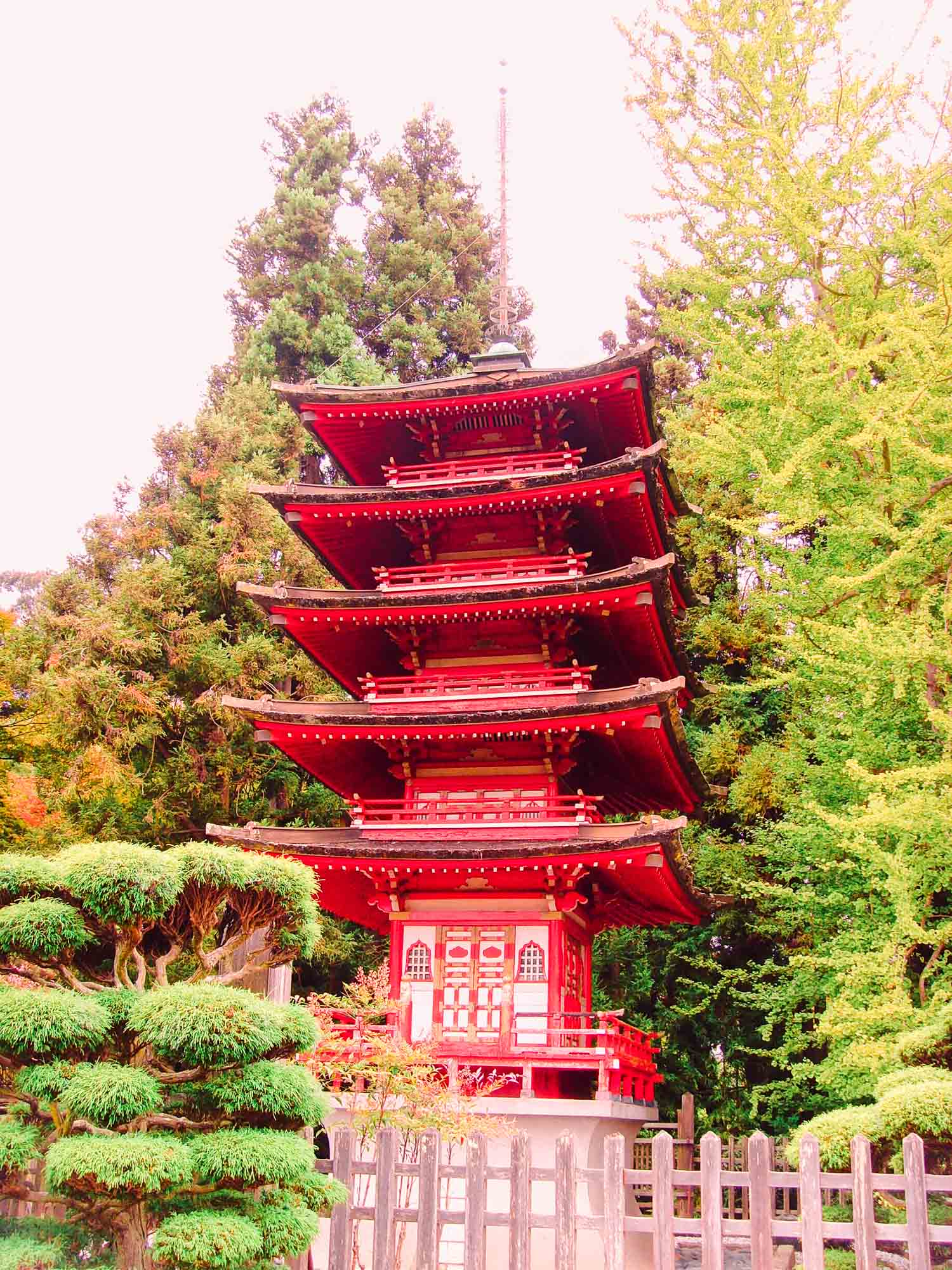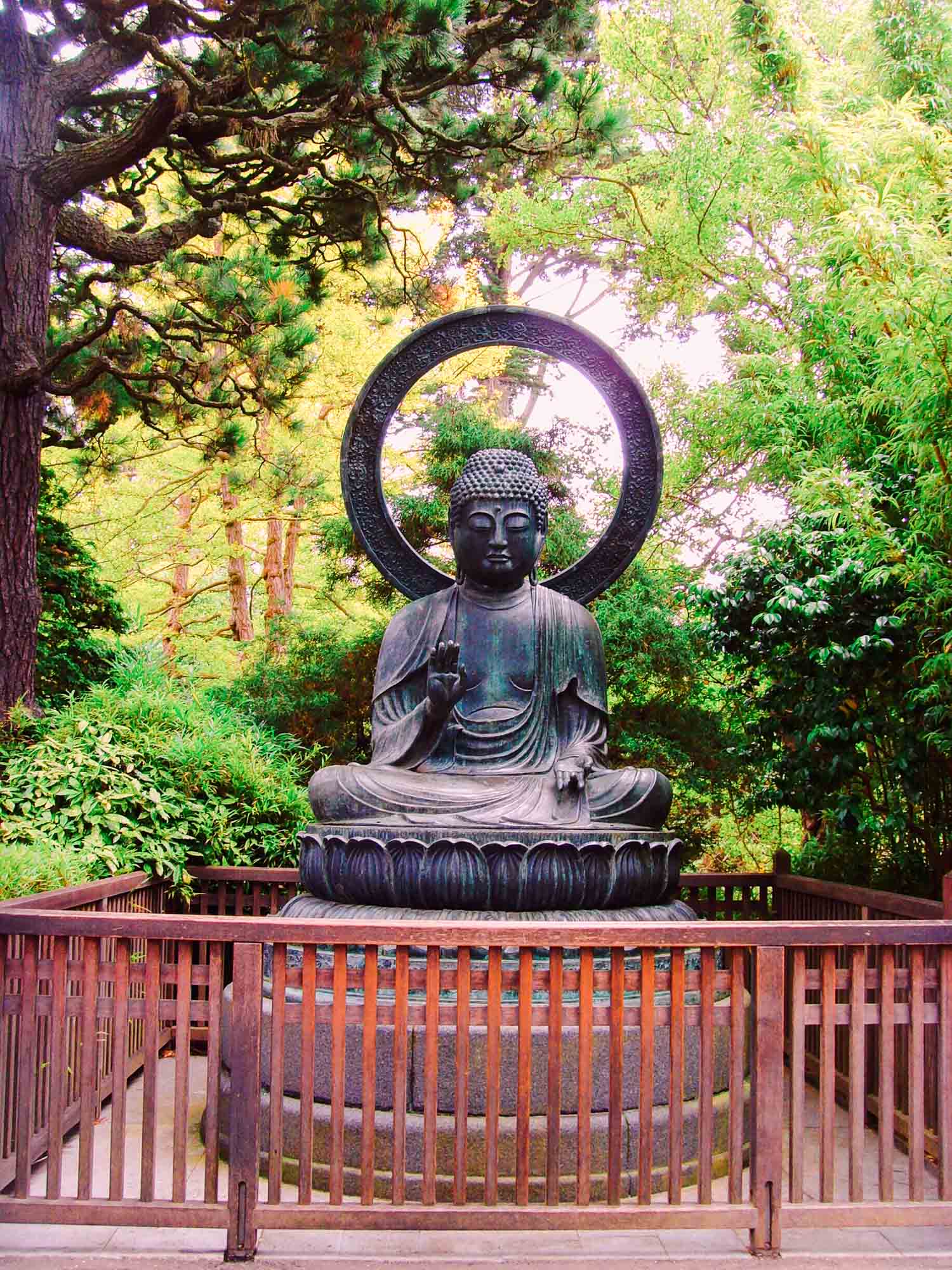 16. Mission Dolores. The Misión San Francisco de Asís was founded in 1776. As the oldest structure in San Francisco, this humble church is a modest, yet important piece of San Franciscan cultural history.  The small building includes the mission, a basilica, a mini museum  and small grave yard, graveyard/garden.
Entrance Fee: $5
17. Octagon House. This peculiarly shaped house built in 1861 is one of only three remaining octagon houses in San Francisco. An architectural throw back from yesteryear, the design subscribed to the belief at the time that residents of octago-shaped houses would enjoy more prosperous lives.  If you're a history aficionado on the hunt for things to do in San Francisco, you'll find a small treasure trove of of letters and artifacts including 54 signatures from the Declaration of Independence.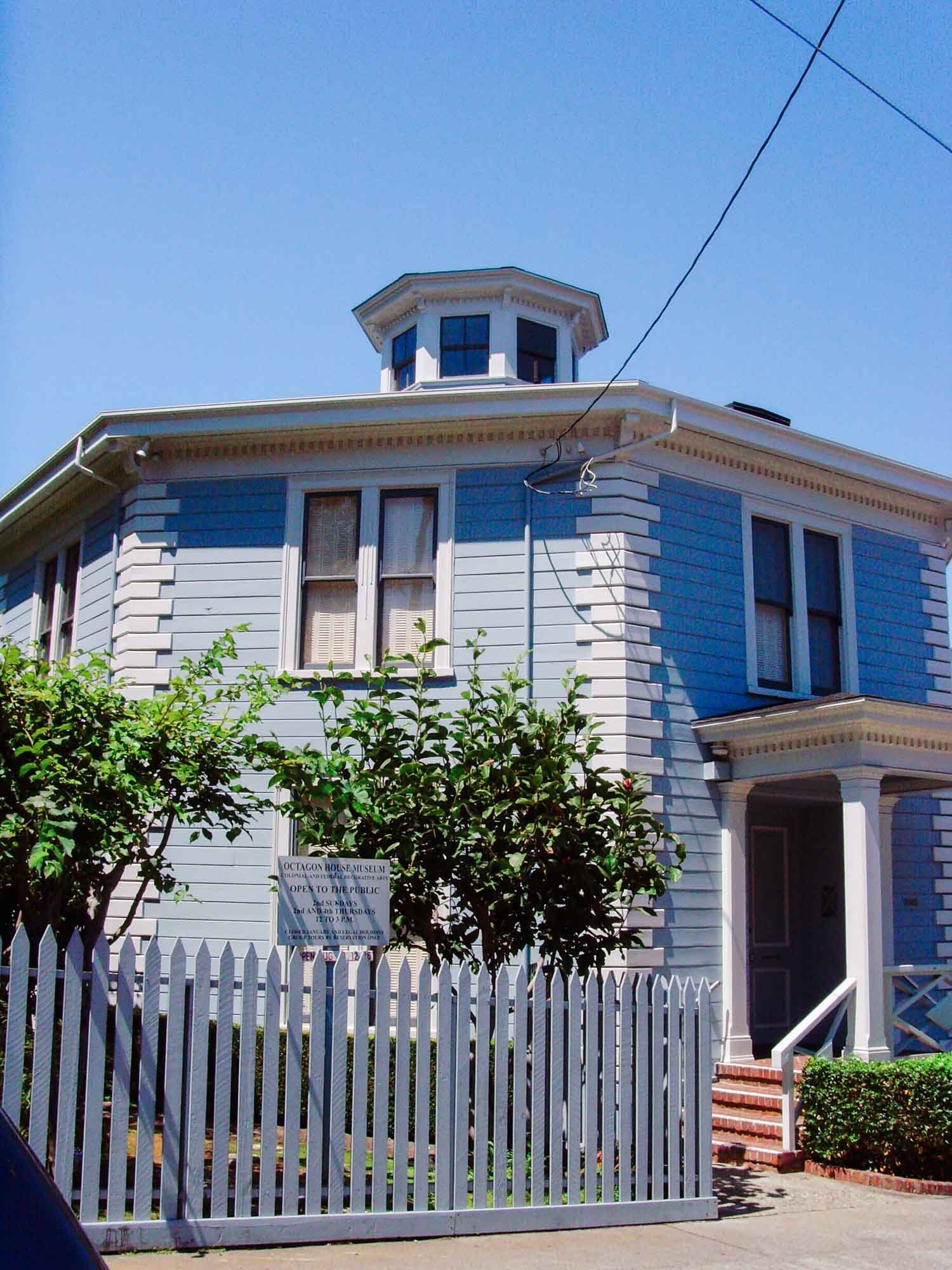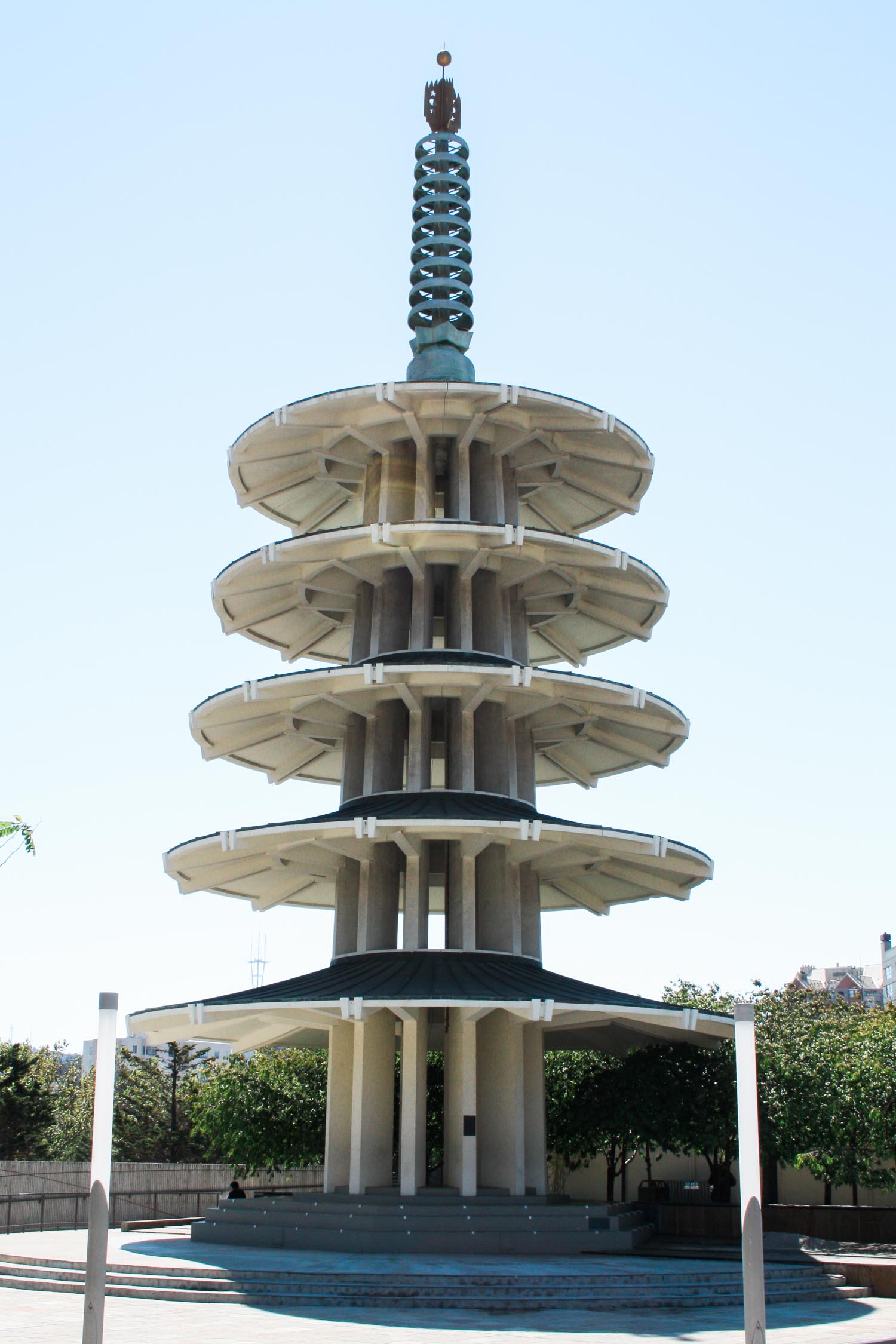 18. Japan Town.  It's easy to forget you're in California when you step into this small Japanese community made up for a several small blocks. You'll find authentic Japanese ramen, crepes, groceries and cuisine. The Kinokuniya bookstore is filled with imported Japanese publications and the Kabuki spa with sauna, steam room and hot baths for deep relaxation. Ladies can also treat themselves to a hair and nail experience by technicians and stylists from Japan. If you're around in April looking for things to do in San Francisco, check out the epic Cherry Blosson festival, or the Nihonmachi Street Fair if you visit in August. A must visit for Japanophiles!
Entrance Fee: None
19. Little Italy – or Northbeach. As to be expected, this little Italian neighborhood is the perfect place to brunch of a slice of foccacia or pizza, and is also a great spot for a glass of wine with a bellisima Italiano dinner in the evening. Little Italy was the historic center of the turtleneck-clad, beret adorned beatnik generation of the 50s, and home to baseball legend Joe DiMaggio, lived there during the 1950s with wife, Marilyn Monroe.
Entrance Fee: None
20. The largest China Town oustide Asia. This Chinese community in San Francisco, which forms the backbone of China Town, is the largest in North America and the largest Chinese community outside Asia. It is bright, colorful, crowded, cramped, busy and unmistakably Chinese! There are loads of awesome things to do in San Francisco when in China Town – you can enjoy authentic tea houses, find traditional Dim Sum, and see typically Chinese pagoda-style architecture.
Entrance Fee: None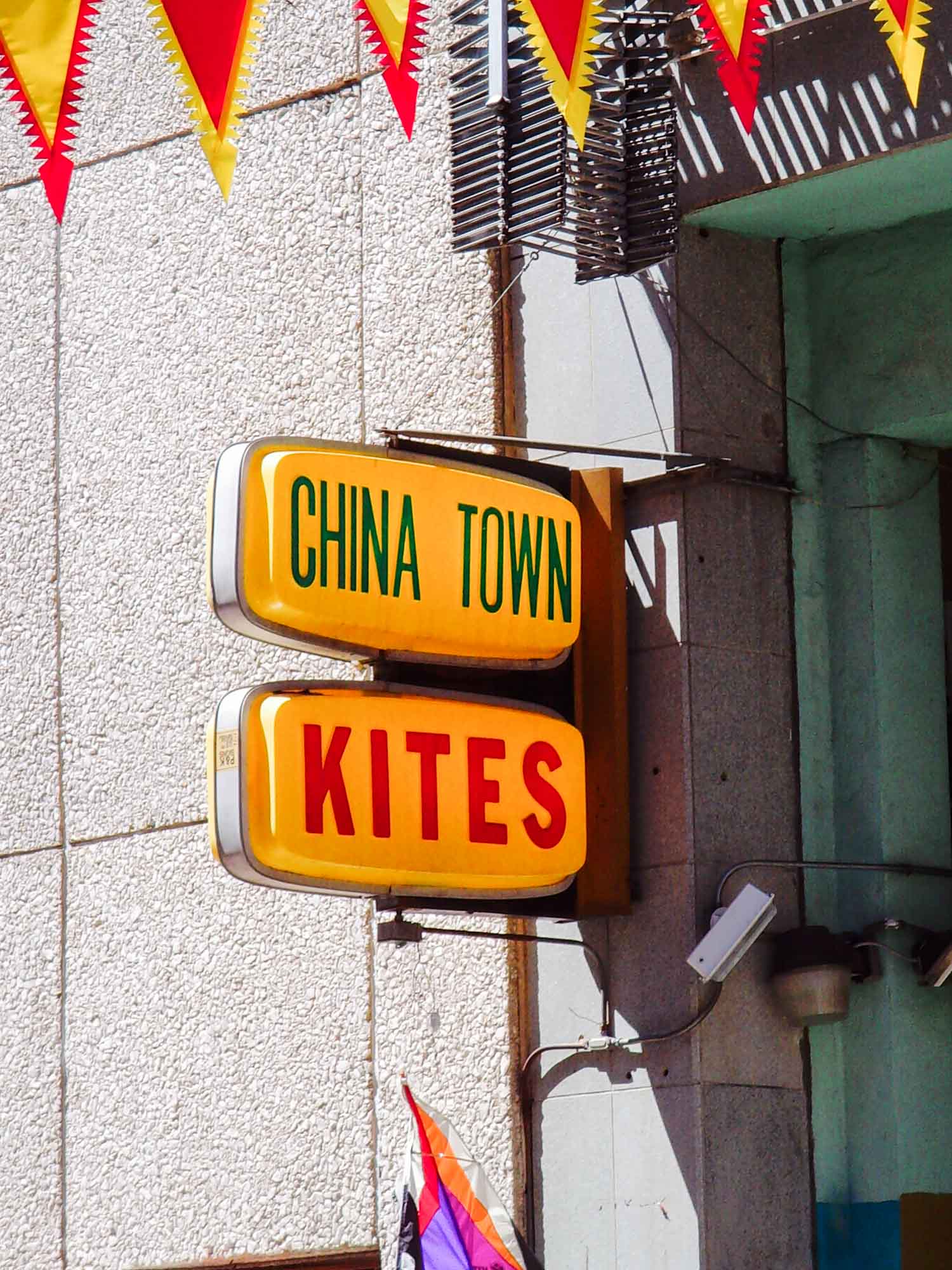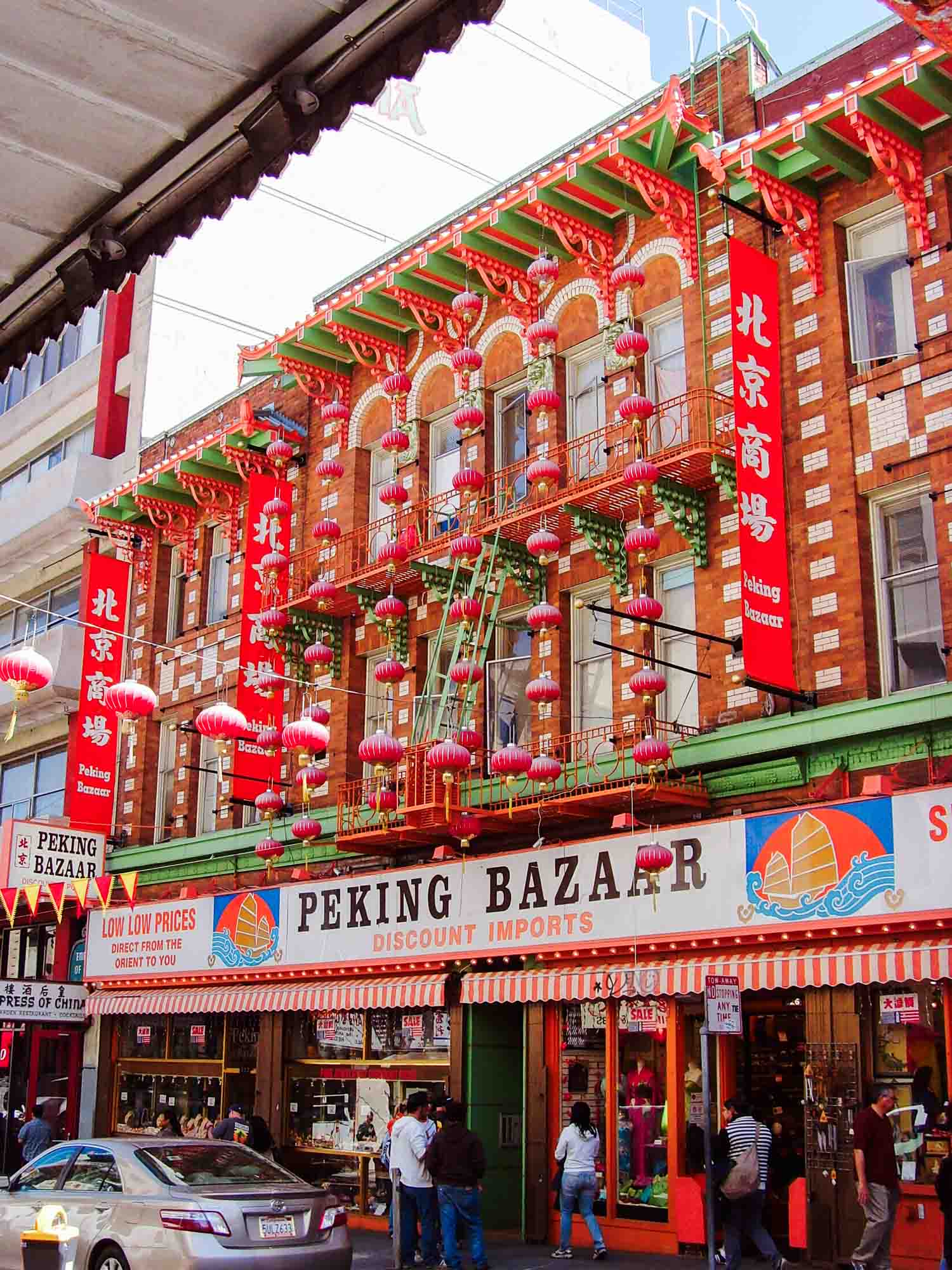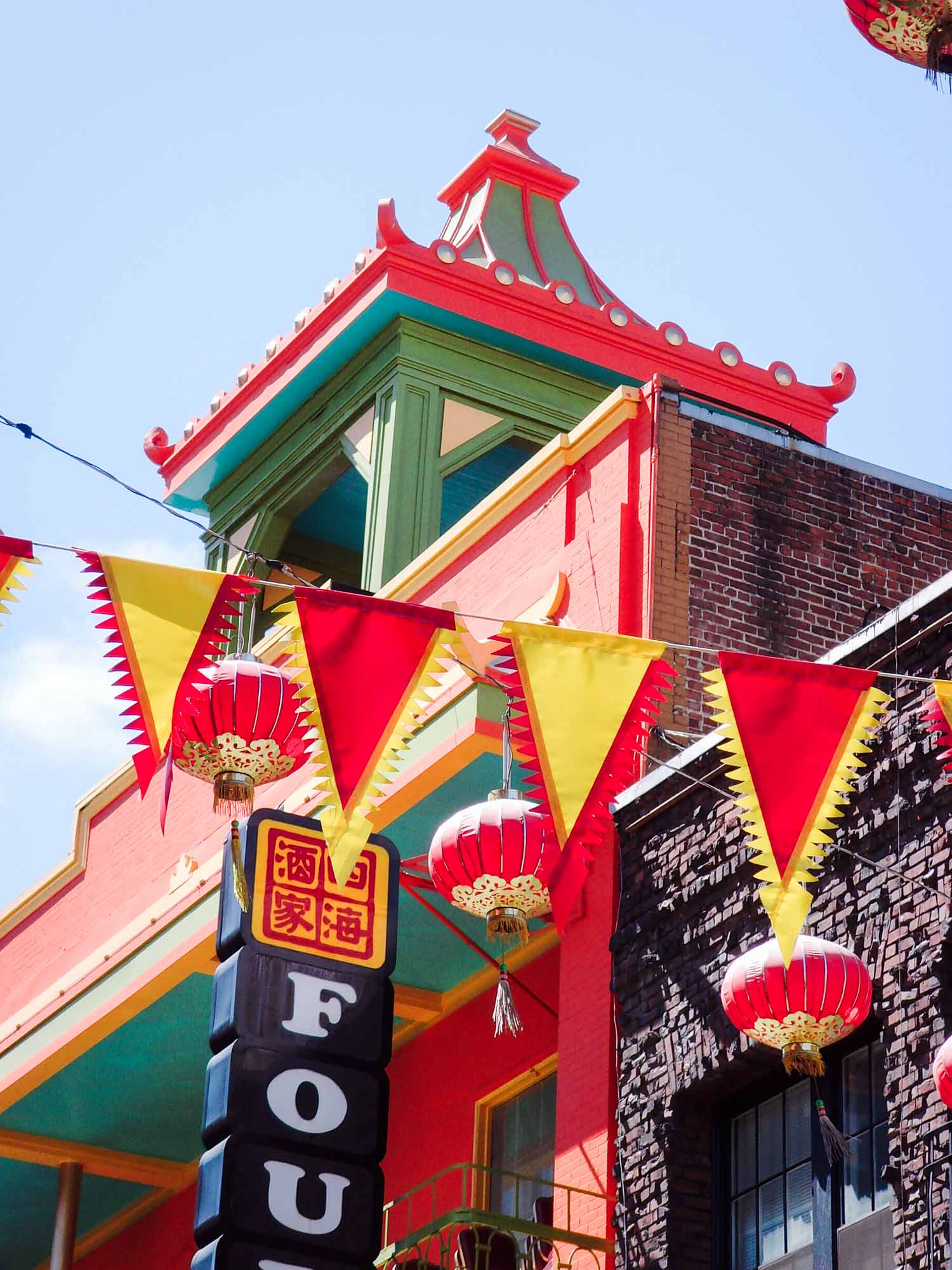 THINGS TO DO IN SAN FRANCISCO: SHOPPING
21. Union Street Shopping. Not to be confused with Union Square mentioned above, these boutiques, cafes and jewellery stores, are housed in quaint, Victorian-style buildings on Union Street. If shopping is not your thing but you have some time to kill, the area still is still good for brunch and a spot of window shopping.
Entrance Fee: None
22. Ghirardelli Square. Chocoholics, attack! 🙂 Bonus: While not strictly kosher due to being made in a factory that contains dairy, Ghirardelli does offer a few delicious vegan treats to enjoy. In addition to choccie shopping and brunch spots, we loved stopping in at Lola's for cheeky, cute greeting cards.
Entrance Fee: None
THINGS TO DO IN SAN FRANCISCO'S SURROUNDS
23. Muir Woods forest. Want to get out of the city? Ponder your insignificance as giant, ancient and superbly magnificent Red wood and Sequoia trees tower above you at this "tree lovers monument". You'll find trees that are taller than the statue of liberty, some around 1200 years old! A wonderful way to get lost in nature, a must do activity for those who enjoy hiking trails!
Note: It's about a 35 minute drive, or 2 hour bus trip from San Fran to Muir Woods.
SF Park Entrance Fee: $10.
24.  Napa Valley. Take a tour of Napa Valley to enjoy some truly beautiful vineyards, and of course, if you're a wine lover, sip on samples of the local offerings. We're told hopping on the Napa Valley Wine Train is a wonderfully fun experience! The region is also home to many fwith spas, mud baths, Calistoga Hot air balloons, gourmet retreats and vegan friendly options!
Additional Info: It's about a 90 minute drive from San Fran to Napa Valley.
25. DIY Geek Tour. If you're a tech head and want to check out a few geeky landmarks just outside of San Francisco, head on out to Mountain View. You'll be able to check out the famous Google Android lawn statues, stop off at the Computer History Museum and finish up by grabbing a selfie at number 1, infinite loop – Apple's HQ.  Absolutely on the must-do checklist of things to do in San Francisco for tech lovers if you have some spare time!
Info: It's about a 50 minute drive from San Fran to Mountain View.
Entrance Fee: None
KOUPONS.com Saves you More $$$, San Francisco, CA. ( # 1 ) KOUPONS and DEALS, Copyrights 2017